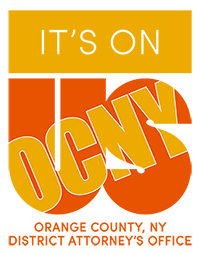 Orange County is proud to be the first county in the United States to join the White House's It's On Us campaign, which is designed to raise awareness about sexual assault.
It's On Us is a cultural movement aimed at fundamentally shifting the way we think and talk about sexual assault. It is a rallying cry, inviting everyone to step up and realize that the solution begins with us. The campaign seeks to reframe the conversation surrounding sexual assault in a way that empowers, educates, and engages everyone to do something, big or small, to prevent it.
The White House launched the It's On Us initiative in September 2014. Since then, the campaign has welcomed roughly 90 official national partners, including corporations, non-profit organizations, and college athletic conferences. Additionally, 370 schools in 48 states have hosted a total of 625 It's On Us events.
Orange County District Attorney David M. Hoovler is proud to have taken the It's On Us pledge:
To RECOGNIZE that non-consensual sex is sexual assault.
To IDENTIFY situations in which sexual assault may occur.
To INTERVENE in situations where consent has not or cannot be given.
To CREATE an environment in which sexual assault is unacceptable and survivors are supported.
NOW IT'S OUR TURN.

Our mission is to initiate the spread of the It's On Us campaign across our college campuses, and throughout our communities and businesses.
We invite you to become a part of this vital public service effort that declares that sexual assault is not only a crime committed by a perpetrator against a victim, but a societal problem in which all of us have a role to play.